October 26, 2017
MARK YOUR CALENDARS:
Planning meeting for spring weekends:  tentatively set for November 18th in Havre. Time and place TBD.
 Spring weekends both at St. Thomas camp:
May 10-13 for Men's weekend.  Rector: Jay Springer.   mrejay@havremt.net        406-702-0030. Or 406-445-1113
May 17-20 for Women's weekend:  Rectora:  Jamie Jespersen. luvngod4ever@hotmail.com        406-422-9962      909 Menlo Park Rd, Helena, MT 59602
Secretariat Officers:  New officers will be elected in January.  See upcoming announcement.
January  17 , 2018
MARK YOUR CALENDARS:
Planning meeting for spring weekends:
Saturday, February 3rd, First Baptist (Fellowship Hall) in Great Falls (525 2nd Ave N.) from 10-12 then Secretariat starting directly after lunch.  Please note: First Baptist is hosting a men's conference at the same time so we will intermingle for lunch.  Just a heads up that we won't be the only ones there . We will need help with lunch for the February 3rd meeting.  We always seem to have enough food if we all contribute. Contact Jamie Jespersen if you can help with this:  luvngod4ever@hotmail.com or 406-422-9962.
Saturday, March 3rd, Helena, Location and time TBD, most likely Grace Community Fellowship
Saturday, April 7th, Great Falls or Highwood, time and place TBD
 Spring weekends both at St. Thomas camp, Hwy 89, Monarch, MT
Men's Weekend:  May 10-13, 2018
Jay Springer, Rector  Phone: 406-7702-0030 or 406-445-1113
E-mail:  mrejay@havremt.net
Scripture:  Romans 9:25 New King James Version (NKJV)
As He says also in Hosea:"I will call them My people, who were not My people, And her beloved, who was not beloved."
Women's Weekend:  May 17-20, 2018
St. Thomas Camp
Jamie Jespersen, Rectora, 909 Menlo Park Road, Helena, MT  59602
Phone:  422-9962 (cell)
E-mail:  luvngod4ever@hotmail.com
Cost of the weekend is $100.00 per person, candidate or team member, Scholarships available if needed.
Secretariat Officers:  New officers will be elected in January.  See upcoming announcement.
Fun fact:
I recently discovered a new "layer" to the Christmas story and would like to share it with you.
We probably all know that Bethlehem means House of Bread and  Jesus the Bread of Life was destined to be born there, but did you also know
The flock of sheep that supplied the lambs for the temple sacrifices were kept at Bethlehem??  One of the shepherds jobs was to check all the new born lambs to ensure they were without blemish and spotless and worthy of being used as  a sacrificial lamb???     Thus, on that night long ago the angels called the shepherds to go and check out the newborn "Lamb of God" Jesus, God's perfect sacrifice.
I love how God has so many surprises waiting for us in Scripture if we look.
Blessings, love and prayers
Paula
Secretariat
John Schipf, President
Paul Kroeger, Vice-President
Nancy MacCracken, Secretary
Blanche Saemen, Treasurer
Contact Information:
Big Sky Tres Dias
1631 Highwood Rd
Great Falls, MT  59405
Secuelas:
Great Falls/Highwood:
First Wednesay, 6PM sack-dinner, mtg. at 7pm, contact Leslie for location: 406-727-6253.
Havre/Hiline:  3rd Wed or Thurs of month- contact Mandy mandysuenitz@gmail.com  406-265-4816
Helena:  No secuelas currently. If interested in coordinating, please contact John Schipf: jaschipf@hotmail.com
Livingston: No secuelas currently.  If interested in coordinating, please contact  Julie Jardine 406-223-2090
lynandjulie@gmail.com
Townsend:  last Tues of month, 6:30PM potluck, then meet.  Trailhead Christian Fellowsthip Church @ 20 Trailhead View Dr.,  Paul Kroeger: 406-439-1042.
Please feel free to contact me for any suggestions/articles:
Newsletter Editor:
Julie Jardine 406-223-2090
lynandjulie@gmail.com
Missing e-mail addresses– the following e-mail newsletters have come back undeliverable…if you know an updated e-mail address for this person, please let Julie know (see editor info, lower right, first page)
Failed email contacts: 
Kent Johnson,  Adam Garcia,  Christy Ruckwardt ,
Pam Fanning,  Jody Maxwell,  Ron & Pat Long,
Joan Christopher *,  Judy Badgley *
* These may just be getting hung up in work spam filters- please provide personal e-mail address, if you have one.
ARTICLE
God told Him He Was Going to Witness. But How?
A Fourth Day Testimony   
By Dan McDonald
I was praying on Monday after my candidate weekend, "God, is this it? Was it just a mountaintop experience, or has my life indeed changed?"
I was back in the valley and I had to drive to a shop in Wisconsin to help install a machine I sold. As I walked in and was greeted by my loyal customer, Larry, I heard God say, "You're going to witness to him today."  I said "OK."
I apologized to Larry for being late and explained that I had just returned from a three- and-a-half-day retreat.
"What kind of retreat?" He asked.
"A Christian retreat," I said.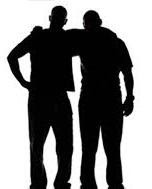 He gave me a disparaging look, to which I replied, "Do you believe in God?" The question elicited an emphatic negative response. So, I thought, "God, how is this going to happen?"
We installed the machine and all went well. At the end of the meeting we met in the office to go over the safety manual. Larry said, "I told my guys don't be putting their hands in the grinder; safety first!"
I pulled up my pant leg and showed him my prosthesis. "I'm the same way. I lost my foot in my dad's lawnmower when I was three."
He looked at me like he wanted to punch in the face. "Are you messing with me?"
"No," I said, "It's a prosthesis."
After a pause, he asked, "Do you know my story?"
I didn't. He told me that he ran his son over with a lawnmower when the boy was two years old, causing Johnathan to suffer a double, below-the-knee amputation.
I heard God say, "I told you that you were going to witness to this man today."
We talked. I cried, and we shared stories about the tough experience I and his son had learning to live with prosthetics. "I used to go to church," he said, "and my son's accident is part of the reason I stopped going. When this happened, not one person from my church came to visit me."
God gave me a word and said, "Remind him that's not My church."  Then God said, "Why not pray with him?"
To my surprise, he bowed his head and prayed with me.
God is indescribable.  There is no one like Him.  He used me to relate to another human being in a way that only I could. Then he had me share the gospel.  My friends, the day after that third day is only the beginning! God is so much bigger than any challenge we face! Hallelujah!